Merry nearly Independence Day folks. This has been an odd year! But I have continued my now nine year tradition of collecting STEM and STEAM and Science demos, links, and craft ideas. This is for folks to have some fun during these long day time hours before the fireworks. Or instead of the fireworks. Or really any day! Encouraging all to think outside the box. Expand the holiday from Booms and BBQ's. Tinkering, and Crafting, and exploring with your family and friends (where social distancing allows)
As usual New Mexico is in drought conditions, so if you do play with fireworks, Please Be Safe! Have a hose and a full bucket of water handy. Wet the surrounding area. Be mindful of weeds, trees, leaves, and litter and other burning hazards.
Due to the Corona virus, many events and parties are canceled, so skim over these and see if there are any good pastimes you want to try out!
I hope these links and the list of links for past years posts will keep you all (no matter what your age is) amused and delighted.

Please share this link with anyone you think might enjoy it.
-Adric
Links & Ideas:
Bomb Fizz Strawberries,
Take a 60/40 mix of powdered sugar and baking soda, combine in a side bowl, then with either freshly washed strawberries, (the tarter the better within reason) dip the strawberries into the mix and tap to dust off the excess. Now eat them. What does it feel like in your mouth? -by Adric
Got a 3dprinter?  You can try printing this bottle opener and bottle cap shooting gun.

https://www.thingiverse.com/thing:3915647

Firecracker goop… poprocks, cornstarch, water, food color…
https://www.growingajeweledrose.com/2013/06/pop-rock-goop.html
Paper Blooming Water Flower (or is it a firework burst?)
Paint and paper tubes, to make a pretty good starburst pattern.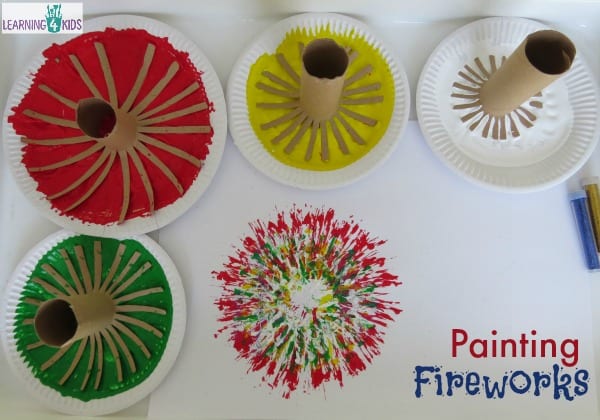 Cute firework creatures. Not in english. But you get the drift. (needs paint, straws, paper, googly eyes)
https://kreativraum24.de/monster-klecksen
Know someone with a few old rusty trailer hitch balls?   You can make a pretty big spark with 2 and some foil.   Video shows with big steel rock crushing balls.  Large ball bearings… Must have round surfaces.

https://www.stevespanglerscience.com/lab/experiments/thermite-reaction/

DIY Kalliroscope must say (mica shimmer powder) works well.
How To Build A Simple Ferrocell
Make a cold tornado.  Some fans, dry ice and some hot water. 

https://gfycat.com/hotspicydalmatian 
Cd+ paper pattern, plus a sunbeam = rainbow daytime fireworks.
Neon pant, blacklight, jar of water. Fun times neon fireworks. Might be able to use the putting shaving cream trick on this for a glow under blacklight rain storm. In a jar.
https://www.growingajeweledrose.com/2019/06/glowing-fireworks-experiment.html

Paper plate/stapler  polyhedrals.

https://allfortheboys.com/paper-plate-polyhedron/

A bunch of crayon and heatgun art ideas. (42 in 1)
http://www.cartoondistrict.com/diy-melted-crayon-art-ideas-on-canvas/

3D foil art, Paper/cardboard/canvas some glue and yarn. Then some more glue and cover with foil. Rub down, and paint with colored sharpies. Looks pretty cool.
http://ourartlately.blogspot.com/2012/02/foil-embossing.html
DIY "laser" maze. Streamers and tape. For a harder version, try using cheap painters tape instead of streamers. Now you have a sticky lazer maze. https://www.itsalwaysautumn.com/diy-hallway-laser-maze-indoor-fun-for-kids.html
Super simple Glue,  Construction Paper and Salt, and food coloring firework craft.

https://www.icanteachmychild.com/salt-absorbing-fireworks/

Simple Bird kite, from paper.  Can even work with no wind.  And tire out the kids. 

http://krokotak.com/2017/06/simple-bird-kite/ 

Paper only Flexigon. (no tape needed) great travel toy. 6 sided fidget item.
Suncatchers, Can lid, clear school glue, and those flower gems, or flat marbles or whatever you call em. The lid is just there as a backing for the glue. And is removed when the glue is dry.
https://www.thejerseymomma.com/2016/12/easy-handmade-diy-suncatchers.html
Got a drone? Rig up a TP dropper. Just be sure to clean it up…. I'm guessing toilet paper won't be so rare by the 4th.
Link to 2019-2011 Fireless fourth links:

https://quelab.net/19628/2019-quelabs-fireless-fourth-links-and-ideas/
https://quelab.net/19560/2018-fireless-fourth-4th-of-july-
https://quelab.net/19439/quelab-2017-fireless-fourth-link-list/
https://quelab.net/19282/2016-fireless-forth-ideas-from-quelab/
---